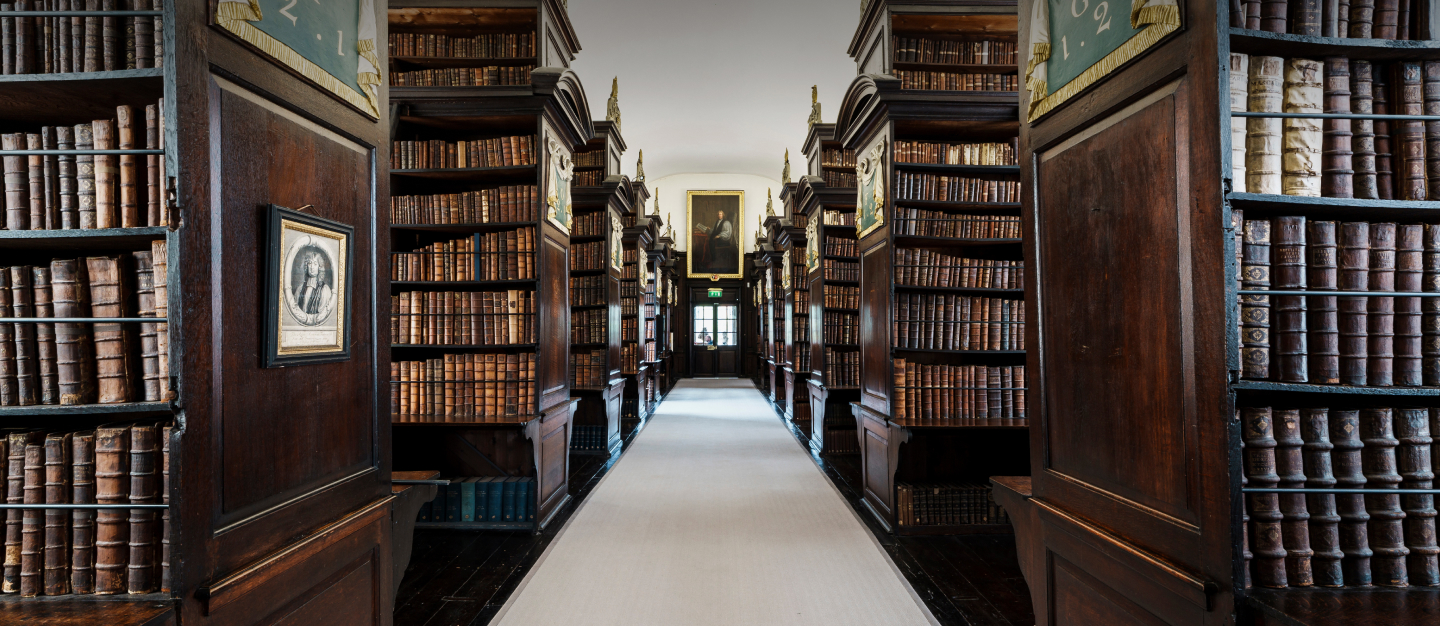 The Library is open from 9.30 to 5.00 Tuesdays to Fridays, and from 10.00 to 5.00 on Saturdays.
It is closed on Sundays and bank holidays.
Any changes to these hours will be advertised in advance on social media and on our website.
The reading room is open (by appointment only) 3from 9.30 to 1.00 and 2.00 to 5.00, Mondays to Fridays.
Due to the nature of this historic building we regret that the galleries of the library are not accessible to wheelchairs.  We will always assist with lifting buggies or prams up the steps and stairs, if you ring the library on (01) 4543511. Children are always very welcome in the Library.
We can provide access to the ground floor facilities, shop and garden on request. The reading room is on the ground floor. READ MORE
Marsh's Library is over three hundred years old, established in 1707.
Yes, we offer printed guides in Irish, English, French, Spanish, Italian, German, Polish, and Portuguese. We also have staff members who are fluent in several languages including French, Spanish and Russian.
The area is well served by public transport with many bus routes nearby.
Pay and Display parking is available in St Patrick's Close and on Bride Street. The nearest car park is on Werburgh Street. 
Yes, you may take personal photos and videos without flash.
For commercial photography and filming, please contact us.
We regret that we can only make study places available if you are reading material from Marsh's Library. For more general reading, we suggest trying one of the public libraries nearby such as Kevin Street Library.
No, sorry! Everyone wants to touch them, but because the books are over three hundred years old, they have to be handled with care. Everyone who comes to do research is shown how to support the books and how to turn the pages in our supervised reading room.
We always have an exhibition in the Library which shows open books: they are in just the same condition as the others on the shelves.
Most of our Irish language (Gaelic) manuscripts have been digitised in collaboration with Irish Script on Screen. We are also working on a digitisation programme for our French manuscripts, and for other materials. 
Your donations can help us with this important work.