Tours for Primary Students
General Tour (Approx. time 30 mins)
The tour for primary schools is designed to spark the students' imaginations.  We see the portrait of our founder Narcissus Marsh in the first gallery, spot the bullet holes from the Easter Rising in the old reading room, and hear stories about the mummy and the ghost in the second gallery.  Finally, on to the cages, where readers were locked in to stop them from stealing the books.
We can take a maximum of 25 students per group. If the group is larger than this, we can divide the students into 2 (or more) groups.
Why not include…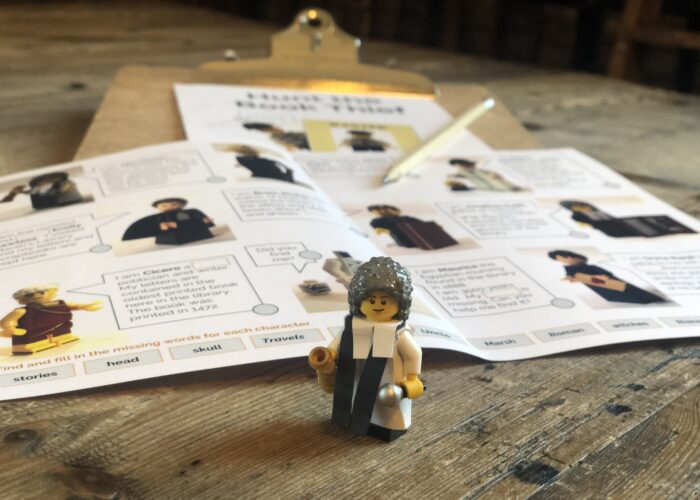 The Minifigure Hunt  (Add 15 mins)
Our minifigure hunt includes 12 fun characters from the Library's past.  This is a great introduction to our building, and to famous readers such as Jonathan Swift, Bram Stoker, and James Joyce. There's also an Egyptian mummy.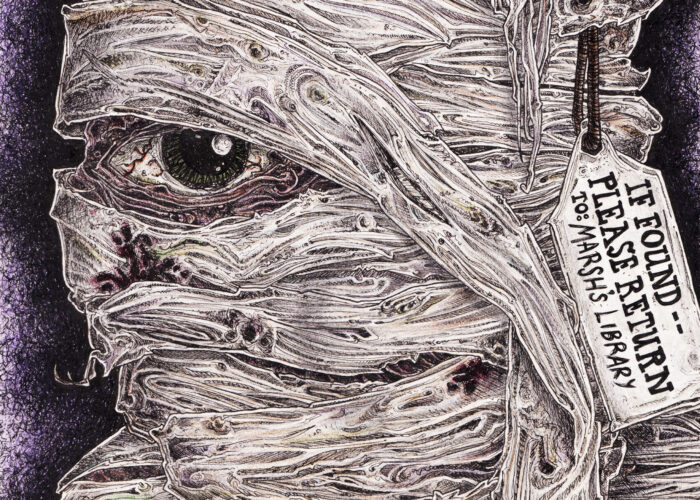 Comic Book (Add 30 minutes)
As an alternative to a general tour, we can use the nine images within our comic book to share a few tales.  Images include; the bullet damage in the library, the use of urine in leather production, the ghostly hunt for a lost note and a mummy found in a press!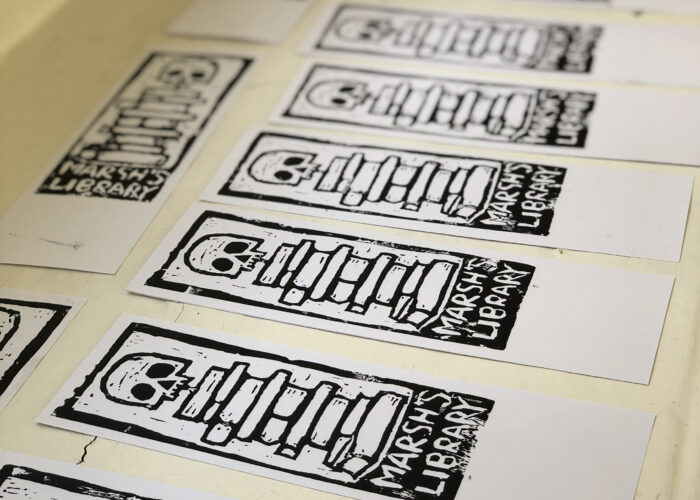 Block Printing Bookmark Workshop (Add 60 minutes)
Classes look at examples of early printed images made with woodblocks. We will demonstrate how to replicate this technique using a linocut, roller, and ink. The students can then create their own bookmark design and produce a print using a polystyrene tile.  (Max. 25 students)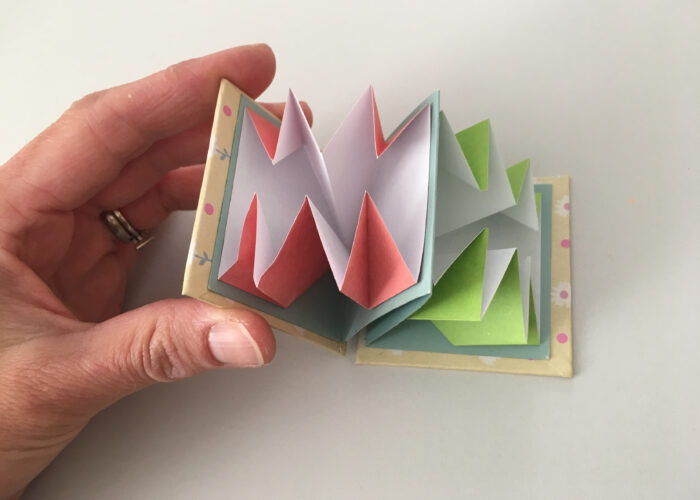 Simple Bookmaking Workshop (60 minutes)
Students can create their own simple books, with paper folding techniques. The students will be introduced to the features of a book such as boards, text block and spines.
These can be adapted to fold-out maps if your learning objectives are of a geographical nature! (Max. 25 students)
Secondary Schools
Our books and manuscripts have great potential to support the learning taking place for the Junior and Leaving certificate cycles.
We have a rich collection of texts and images relating to many topics in the history curriculum, including the Reformation, the Renaissance, Exploration and Discovery, and the Easter Rising.
The online catalogue might give you ideas. Please feel free to contact us to arrange a special visit tailored to your requirements.
Academic Groups
Academic Classes
The Library aims to be a laboratory for teaching a range of subjects across the history, literature and culture of the early modern period. We offer an opportunity for students to get a 'hands on' experience of books and manuscripts.
For small groups, tailored tours and 'show-and-tell'  sessions can be led either by library staff or the academic teaching the class. Our full catalogue of books and manuscripts is available
here.
For workshops, lectures and conferences, Marsh's has a fully equipped interactive seminar room which can seat up to 44 people.
'The collection of really old books looked really cool…the scavenger hunt was really fun.'
Scoil Mhuire, Clondalkin
'The boys loved it!'  Maths Week, 2020
St David's BNS, Artane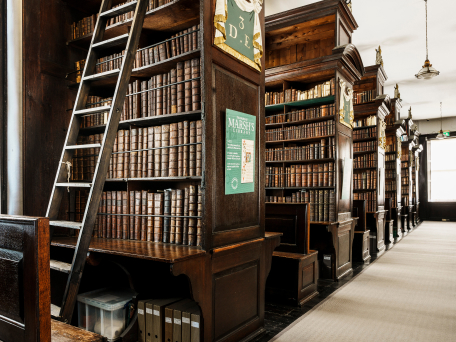 Tuesday – Friday 9:30 – 5:00pm
Saturday – 10:00 – 5:00pm
Sunday & Bank Holidays – Closed
Other attractions for schools