Step into the 18th Century
Step into the 18th Century
Welcome to Marsh's Library
Experience our unchanged eighteenth-century building with its hidden garden
Soak up the atmosphere and explore our exhibition.
We look forward to welcoming you.
Для громадян України вхід безкоштовний.
Бесплатный вход для граждан Украины.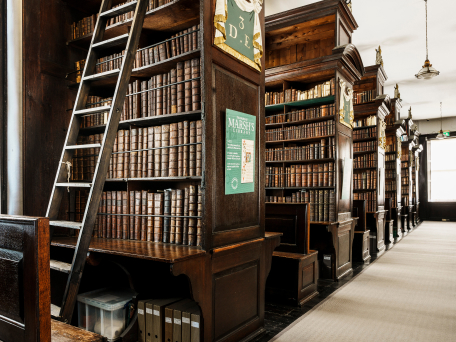 Opening Hours
The Library is open to visitors from 9.30 to 5.00, Tuesdays to Fridays and on Saturdays 10.00 to 5.00. It is closed on Sundays and bank holidays. If we have to close at other times, we will give as much notice as possible on our website and social media.
Location
St Patrick's Close
Dublin, D08 FK79
The Library is a short stroll from the main shopping areas of Dublin's city centre. Most of the hop-on hop-off buses pass our door!
"Great stories and picturesque … the guides are great, and who wouldn't love a reading cage? Highly recommend going"
Google Reviews
"Petite mais sublime. Les personnes qui y travaillent sont très gentils. Il y a des fascicules de plusieurs langue pour d'avantages d'infos."
Google Reviews
"Mesmerising atmosphere taking you head first into the years long forgotten"
TripAdvisor
"Marsh's Library is the first public library in Ireland (1707) so you cannot miss it. In addition, you get a personalised interaction with local guides who explain in multiple languages the history of the place. One of my favourite spots in Dublin !! Strongly recommended!!"
TripAdvisor