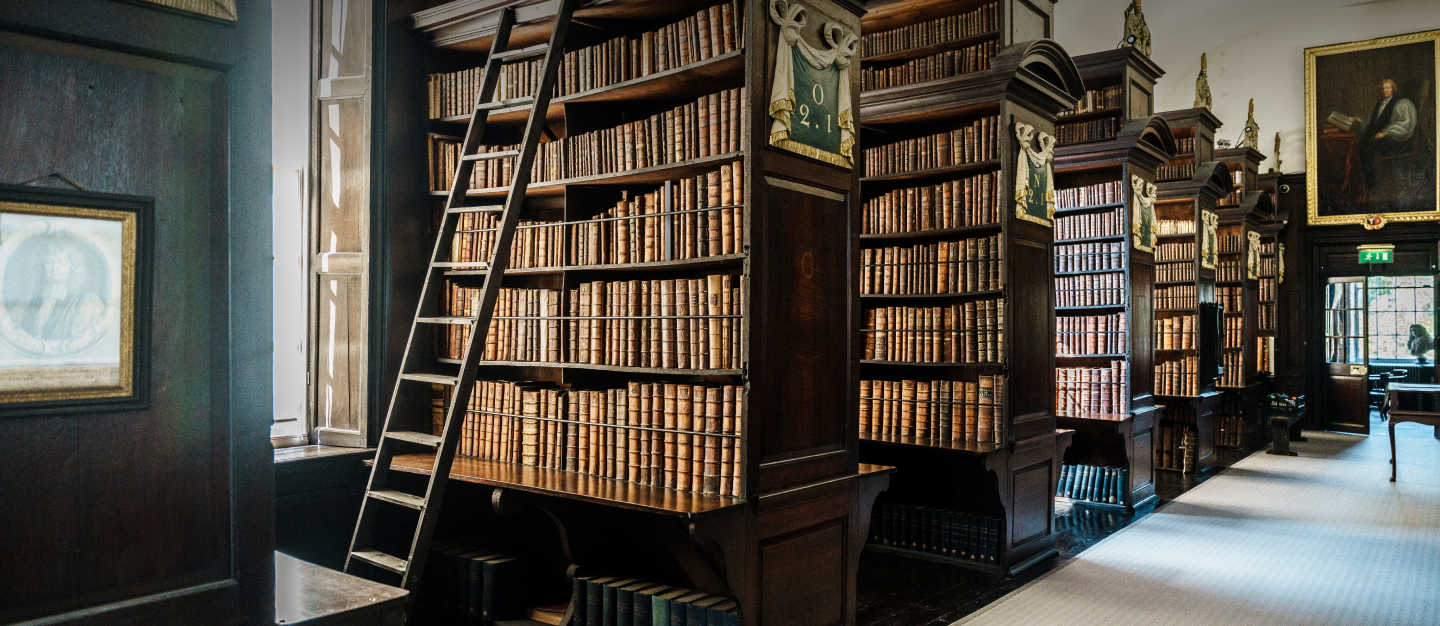 The architecture of Marsh's Library
Marsh's Library is renowned for its impressive collection of historic books and manuscripts but the building is also an intriguing example of Irish architectural heritage.
It was designed by William Robinson (1645-1712) Surveyor General of Ireland. Robinson's plan consisted of a two-storey barrel-vaulted building, 60 ft in length and orientated south-north. In his correspondence, the library's founder Narcissus Marsh indicated that the design was to be based on the Bodleian Library in Oxford.
The First Gallery and Old Reading Room were completed in December 1703, as attested to by the diary of Marsh's first librarian, Élie Bouhéreau. In 1707, Robinson's successor as Surveyor General, Thomas Burgh added an entrance porch, which is no longer extant. By then the existing library shelves were full and a second gallery on a west-east axis was built c.1708.
The oak bookcases stand 13 feet tall and are crowned by scrollwork, delicate gold flowers and gilded mitre decoration. The staircase at the front entrance to the library features spiralling also known as barley sugar twists, a typical 17th century European decoration. Another example of this rare type of staircase can be found in Dublin's Mansion House.
Recent conservation work in the Old Reading Room revealed a Victorian fireplace with a Kilkenny marble surround and original early 18th century woodwork. At the end of the Second Gallery, stand the 'cages', where readers were locked in to prevent them stealing the books. These are decorated with a type of moulding known as tracing, as well as foliate and mitre motifs.
In the courtyard garden, you can see the surviving, original 18th century sash windows in the old Librarian's Apartment. The mid-19th century saw the addition of brick buttressing to the building and the building of a new entrance and porch.
Muireann Walsh, Marsh's Library volunteer